Every golfer lives for the perfect iron strike. With that elusive yet satisfying feeling, you know you've stuck it to three feet before you've even finished your follow through.

But that feeling is rare, isn't it? We're talking a factor of millimeters, here. Even the pros struggle with that level of perfection.
That's why, when we sat down to design the sole of our Z Series Irons, our goal was to give you that perfectly struck feeling even when you come down a little behind the ball.

With careful testing and tons of computer models, we found a totally different way to design a sole. One that gives you the feel and performance of a perfectly struck iron—even when you aren't perfect.
Take a look at traditional iron soles with the eye of an engineer and you'll realize they're designed to punish.

The old way of thinking states: sole shaping doesn't matter because shots strike ball first, then ground. And sure, in an ideal world, that's true. But in your world, iron soles can dig deep, turning slight misses into complete disasters.

Fat shots, heavy shots, chunk shots—they're with us 'till the very end. That's why a sole that maintains speed and consistency—even when you strike behind the ball—is the closest to ideal you'll ever get.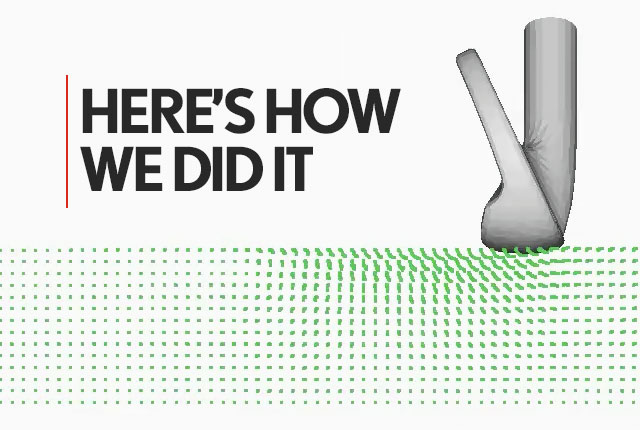 As you know, a sole with more bounce is forgiving but not versatile. Yet the V-shaped Tour V.T. sole has extra bounce to get you through the turf AND provides enough versatility for your most creative shots.

It starts with added bounce on the sole's leading edge. That extra bounce means you won't get stuck in the mud. But we had to ensure you could still execute every shot in your repertoire, so we ground down the sole's trailing edge, creating our signature V shape.

That left us with a sole that glides quickly through the turf yet still offers all the versatility you'd expect from a tour iron.
Designing a better ball strike started with understanding your needs on the course and ended with irons that deliver better feel and more consistent performance.

Experience the Tour V.T. Sole and get more perfect iron strikes… even when you aren't perfect.
Follow Srixon on Social Media